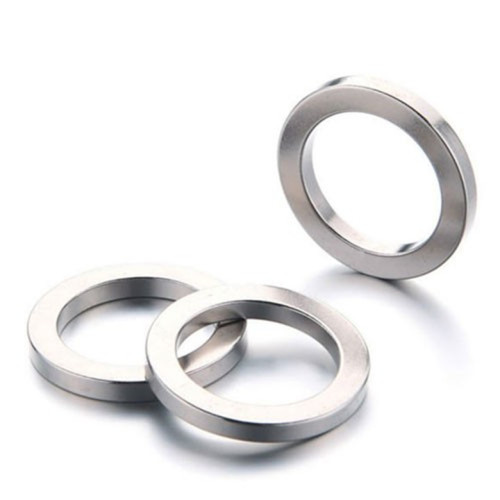 Sinter NdFeB Radial Oriented Ring
Item specifics
Material

Sinter NdFeB Radial Oriented Ring
Shape

Circular Ring
Coating

Ni, Ni-Cu-Ni, Electroless Nickel, Zinc, Colored Zinc, Epoxy
Certificate

ISO/TS 16949, ISO9001, ISO14001, RoHS, REACH
Packing

Standard sea or air packing, such as carton, wooden box, pallet etc.
Lead time

15 days for samples, 30-45 days for mass production.
Transportation

courier (TNT, DHL, FedEx, UPS), air or sea.
Description
Radial ring is a whole radial oriented ring magnet.It can be magnetized by 3ways:Uni-pole on O.D and I.D、Multi-pole on O.D and I.D、Skewed Magnetization The ring is mainly used as induction magnet for motors.It imporves motors performance and effciency,and also radial ring is the market trends of motor.

Advantage of Radially oriented sintered NdFeB ring
1.Assenbly easiy,installation of one rings than glusing arcs into place,simple and quick.and good performance of dynamic blance.
3.Radial sintering assures no "weak spots"
4.Magnets are multi-poled ring does not compromise the magnetic properties.
5.Be straight or skewed magnetized after assembly,provide a possibility of unique design by truly different magnetic circuit.
6.Radial ring direftly determines the shape tolerance,the tolerance of outer and inner diameter can achieve±0.04mm,and has the good coaxiality and verticality.


Radically Oriented Sintered NdFeB Ring & Arc Magnetic Property Table
材料

Grade

剩 磁 Br Residual Induction

矫顽力Hcb Coercive Force

内禀矫顽力

Hcj Intrinsic Coercive Force

最大磁能积 (BH)max Maximum Energy

Product

密度D Density

工作温度Working Temp (L/D=0.7)

温度系数

Temp Coefficient

可逆磁导率Recoil Magnetic

Permeability

居里温度Curie Temp

硬度

Hardness

α Br

β Hcj

μrec

℃

(HV)

KG

T

KOe

KA/m

kOe

KA/m

MGOe

KJ/m3

g/cm3

℃

% .℃-1

min

max

min

max

min

min

min

min

min

max

min

max

min

max

max

max

min

min

max

min

max

min

ma

x

N35R

11.8

12.9

1.18

1.29

9.5

756

11

876

31

37

247

295

7.45

7.6

80

-0.11

-0.12

0.65

0.65

1.05

1.1

310

500

600

N38R

12

13.2

1.20

1.32

9.6

764

11

876

32

40

255

318

7.45

7.6

80

-0.11

-0.12

0.6

0.65

1.05

1.1

310

500

600

N42R

12.2

13.5

1.22

1.35

9.7

772

11

876

34

42

271

334

7.45

7.6

80

-0.11

-0.12

0.6

0.65

1.05

1.1

310

500

600

N35MR

11.8

12.9

1.18

1.29

9.5

756

12.5

995

31

37

247

295

7.45

7.6

100

-0.11

-0.12

0.6

0.65

1.05

1.1

310

500

600

N38MR

12

13.2

1.20

1.32

9.6

764

12.5

995

32

40

255

318

7.45

7.6

100

-0.11

-0.12

0.6

0.65

1.05

1.1

310

500

600

N42MR

12.2

13.5

1.22

1.35

9.7

772

12.5

995

34

42

271

334

7.45

7.6

100

-0.11

-0.12

0.6

0.65

1.05

1.1

310

500

600

N35HR

11.8

12.9

1.18

1.29

9.6

764

14

1114

31

37

247

295

7.45

7.6

120

-0.1

-0.11

0.58

0.62

1.05

1.1

320

500

600

N38HR

12

13.2

1.20

1.32

9.7

772

14

1114

32

40

255

318

7.45

7.6

120

-0.1

-0.11

0.58

0.62

1.05

1.1

320

500

600

N40HR

12.1

13.3

1.21

1.33

9.7

772

14

1114

33

41

263

326

7.45

7.6

120

-0.1

-0.11

0.58

0.62

1.05

1.1

320

500

600

N42HR

12.2

13.5

1.22

1.35

9.8

780

14

1114

34

42

271

334

7.5

7.6

120

-0.1

-0.11

0.58

0.62

1.05

1.1

320

500

600

N45HR

12.5

13.9

1.25

1.39

9.9

788

14

1114

36

45

287

358

7.5

7.6

120

-0.1

-0.11

0.58

0.62

1.05

1.1

320

500

600

N-35SH

11.8

12.9

1.18

1.29

9.7

772

16

1274

31

37

247

295

7.45

7.6

150

-0.1

-0.11

0.55

0.6

1.05

1.1

330

500

600

N-38SH

12

13.2

1.20

1.32

9.8

780

16

1274

32

40

255

318

7.45

7.6

150

-0.1

-0.11

0.55

0.6

1.05

1.1

330

500

600

N-40SH

12.1

13.3

1.21

1.33

9.8

780

16

1274

33

41

263

326

7.45

7.6

150

-0.1

-0.11

0.55

0.6

1.05

1.1

330

500

600

N-42SH

12.2

13.5

1.22

1.35

10

796

16

1274

34

42

271

334

7.5

7.6

150

-0.1

-0.11

0.55

0.6

1.05

1.1

320

500

600

N-35UH

11.8

12.9

1.18

1.29

9.8

780

19

1512

31

37

247

295

7.45

7.6

180

-0.08

-0.1

0.5

0.55

1.05

1.1

340

500

600

N-38UH

12

13.2

1.20

1.32

10

796

19

1512

32

40

255

318

7.45

7.6

180

-0.08

-0.1

0.5

0.55

1.05

1.1

340

500

600