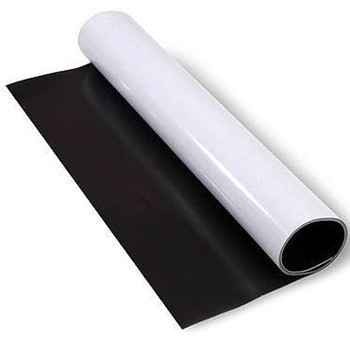 Item specifics
Material

Rubber Magnets
Shape

Any shape Can be customized
Magnetized direction

Customized magnetization is welcome.
Certificate

ISO/TS 16949, ISO9001, ISO14001, RoHS, REACH
Packing

Standard sea or air packing, such as carton, wooden box, pallet etc.
Transportation

courier (TNT, DHL, FedEx, UPS), air or sea.
Lead time

15 days for samples, 30-45 days for mass production.
Description
Magnetic Tape/ magnetic glue: Magnetic tape is a composite ferrous material, which is prepared by some certain processing technique, using reduced iron powder as filler, and rubber organic as binder, together with rubber and plastic additives.
Rubber magnet is highly flexible in itself, which can be used to produce special-shaped and thin-walled products. It is high in consistency and precision. Good performance in impact resistance makes it non-breakable. Considering its low density, it is helpful in reducing the weight of device or machine. It can be used to produce full radial oriented magnets; laminated with PVC, PP synthetic paper, and double-sided tape, etc.; and make a variety of products.
Rubber magnet are manufactured by extrusion or calendering and can be customized for use everywhere from offices to warehouses, garages to craft tables, and restaurants to classrooms. Compare to other kinds of magnet , rubber magnet exhibit it powerful flexibility , they can be bent, twisted, coiled, slit, punched, and otherwise machined into almost any shape without loss of magnetic energy. Cinfer can fabricate flexible magnets to your final desired size and color.
Rubber Ferrite Permanent magnet is a composite material made of ferrite magnetic powder mixed with rubber raw material.Due to the high plasticity of the material itself, the finished or semi-finished products can be cut, perforated, longitudinally cut and mounted on other materials at will. Besides, it is not easy to demagnetize and has good corrosion resistance.It is mainly divided into two kinds: same type and opposite type.The same type of rubber magnetic weak, mainly used in refrigerator magnetic patch.Printing products and promotional products.But the opposite sex rubber has the high magnetic energy, therefore USES in the miniature motor and the magnetic toy and so on domain massively.

Rubber NdFeB permanent magnet is a new type of soft bonded permanent magnet. This composite material is prepared by the production process of rubber products, using rubber organics as binder, quick-quenched NdFeB powder as filler, together with additives..This composite has high magnetic and mechanical properties.And easy to be processed into flexible bonding magnetic plate, magnet and ring shape of complex devices.To meet a variety of different requirements.More importantly, since the high-performance nd-fe-b powder replaces the ferrite magnetic powder, the adhesive permanent magnet also increases the magnetic energy of the flexible bonded permanent magnet to a new level, which can fill the magnetic energy space between the ferrite and the rigid nd-fe-b.